Details

Category: Blog
Research into successful early adopters of advanced technology reveals that the biggest gains from advances in technology are due to the way the digitisation of information transforms traditionally functional workflows.
The improved quality of feedback from front line assets and true customer demand makes it possible to more closely integrate the workflows of sales, order processing, planning, engineering, material supply and operations and logistics.
That means that many of the rules of thumb used to deal with complex decisions are no longer the best option. That includes those used by planners to manage demand flows and those used by accountants for standard costing.
For example, digitisation can facilitate a transition from work routines organised around traditional functional silo's to one organised around value streams. Here cross functional personnel work as a team to manage short (today, this week), medium (this month this year) and longer term (blue sky) planning horizons.
As a result, the challenges when adopting new technology are wider than tasks associated with learning how to use the new technology.
Making the most of advanced technology and its improved connectivity involves a fundamental rethink of how people work together. That includes how to make best use of relatively new concepts such as remote collaboration, over the shoulder support and advanced data analysis tools.
The challenge for leaders is to manage the transition in a way that builds the capability of the current workforce and engages them with delivering the full potential of the new ecosystem.
Experience shows that those who ignore this wider perspective are doomed to create pockets of automation and engage in lengthy technology led pilot projects that fail to deliver their promise.
What to do: Start Small, Learn Fast
1. Set the scene
Create a current state Value stream map or SIPOC chart to provide an overview of the physical and information systems involved in delivering customer value.
2. Understand the current reality
Use this to brief key stakeholders prior to carrying out a Day in the Life (DILO) review working session to identify pain points and barriers to progress.

Typically pain points are at the interface of traditional functional boundaries such as inventory management and production planning or production and maintenance. Some processes may be missing such as problem finding, problem solving and problem prevention (AKA Standardisation)
3. Envision what could be
As part of the working session, educate participants about the potential of digitisation and advanced technology and facilitate working sessions where they envision how working relationships could change within the context of the 4 scenarios in the graphic below.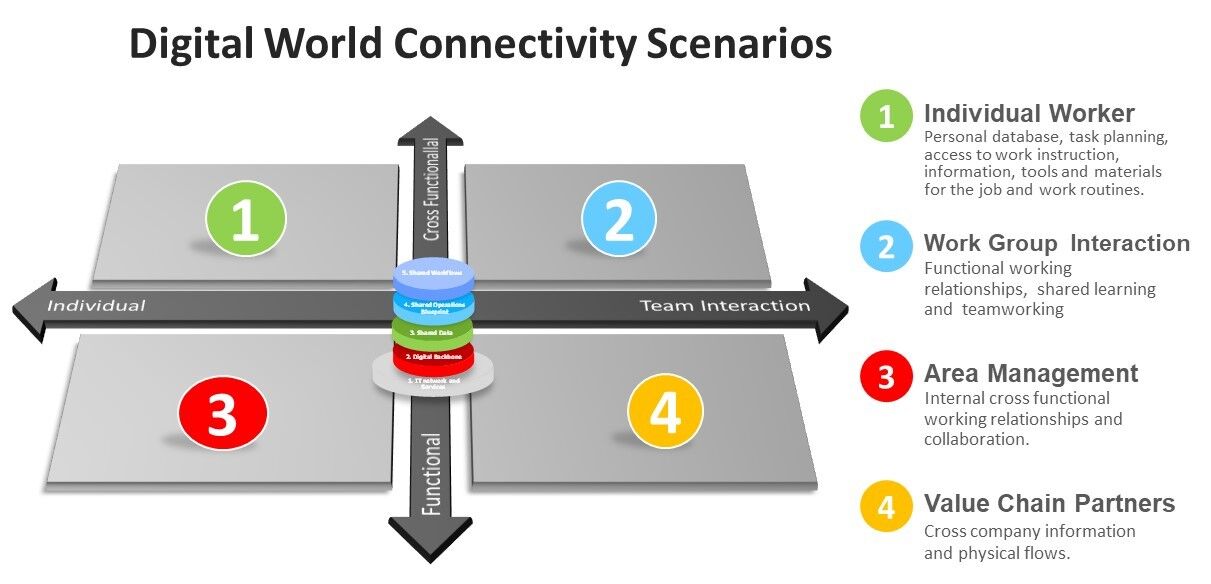 4. Use Workplace Learning Project Cycles to Develop Insight
Return to the value stream map/SIPOC chart, prioritise the pain points and identify Workplace Learning Project(s) to explore advanced technology options and test the most promising ideas under real world conditions in a controlled way to gain an insight to:

Prove the concept
Refine the original idea
Identify a road map to scale up the idea
5. Developing A Digital Operations Blueprint
The 6 business process areas in the table below impact on the flow of ideas from concept to reality. They are links in the chain of your operational capability to get the best out of your investment. (To find out more about each area and their impact on advanced technology gains see details of our half day online training workshop Delivering Gains from Advanced Technology.)
Use the 6 evaluation questions to identify barriers to progress and capability gaps. Use the first few Workplace Learning Cycles to test out ideas, deal with weaknesses and develop your Digital Operations Blueprint. The outcome is a slicker approach to adapting to current and future advances in technology. (There will be many).
| | | |
| --- | --- | --- |
| Business Process Area | Evaluation Question | Common Barriers |
| 1. Approach to technology | What is your track record at investing in new technology. | Lack of clarity of business success drivers or simplistic cost down priorities. |
| 2. Project management | How good are your returns from investment projects | "Hands off" or weak Project Governance processes. |
| 3. Asset Management | How stable and resilient are your operational assets | Poor work routine development resulting in knowledge/skill gaps. |
| 4. Workflow management | How efficient are your work routines | Inconsistent working methods/task coordination/work balancing |
| 5. Daily Management | How well does the daily routine capture lessons learned and deliver systematic improvement | Short term focus on output is a barrier to investment in time to resolve recurring issues. |
| 6. Focussed improvement | How systematic is your approach to delivering the full potential of your people, processes and procedures. | Problems dealt with as they occur. Make do and mend mindset. |
If you would like more information about the above or help with your programme contact us here.